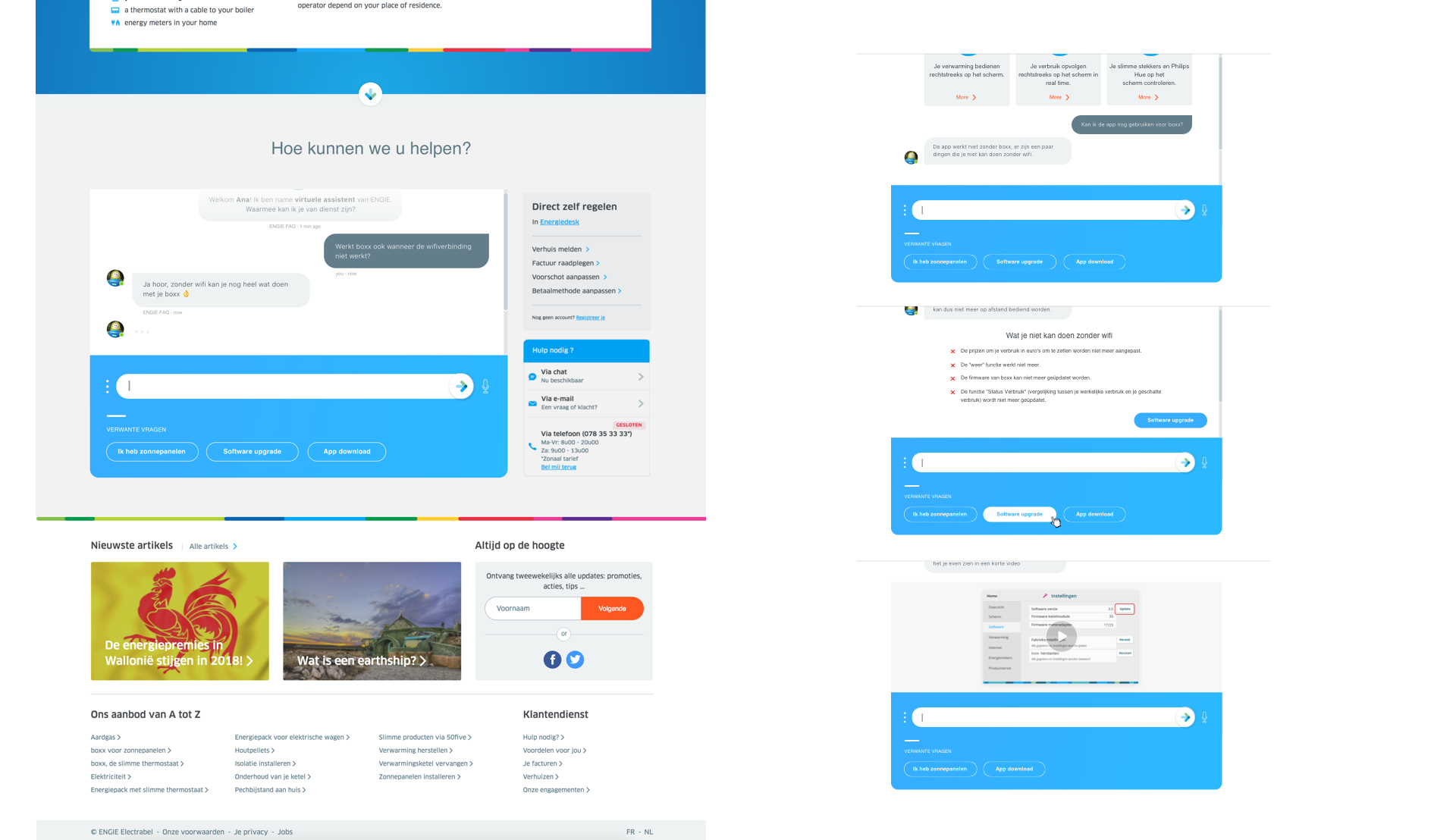 Goal:
One of the company goals for us was to reduce inbound call volume. So we went to the root of the problem and partnered up with the client satisfaction team. Most of the questions asked were simple and had visible answers on the FAQ page. But this page was not optimized (another article could be written about this) so while one team was in charge of a quick fix, the CUI team saw a great opportunity. Why would you call if you could have your answer right away, no hassle? 
How:
So of course placing a chatbot was quite obvious but it was not enough: we knew the answers needed to be more visual and intuitive. Most FAQ bots are poorly placed (some are not even real bots), are not trained well or can't handle complex tasks and end up bringing even more problems and frustrations to the users. So we had the following conclusions:
- This chatbot needs to be on a relevant space, not everywhere on the website. Its purpose is very specific. This way we avoid frustrations.
- It has to be direct and clear on what it can or can not answer (this is part of our CUI bible)
- It had to go the extra mile: Need instructions? Here's a video. You said you are moving? It will recommend a moving tips article (maybe add a useful up-sale to make the client happy too)
- Chatbots could be new to the typical caller. A friendly but professional tone of voice and clear instructions where needed. Quick answer buttons would also help guide the conversation.
- Finally, we don't want to hide information from the user, so our UI was not going to be obstructive. Other contact info would be visible as always, the same spot.
Results:
We created three flows with possible scenarios and pitched it to the Product Owner. Even though it was not on budget and we could not start right away, the insights were well received and this led to a complete restructuring of the FAQ page and a new approach to customer experience.
Tools:
Sketch / Illustrator / Principle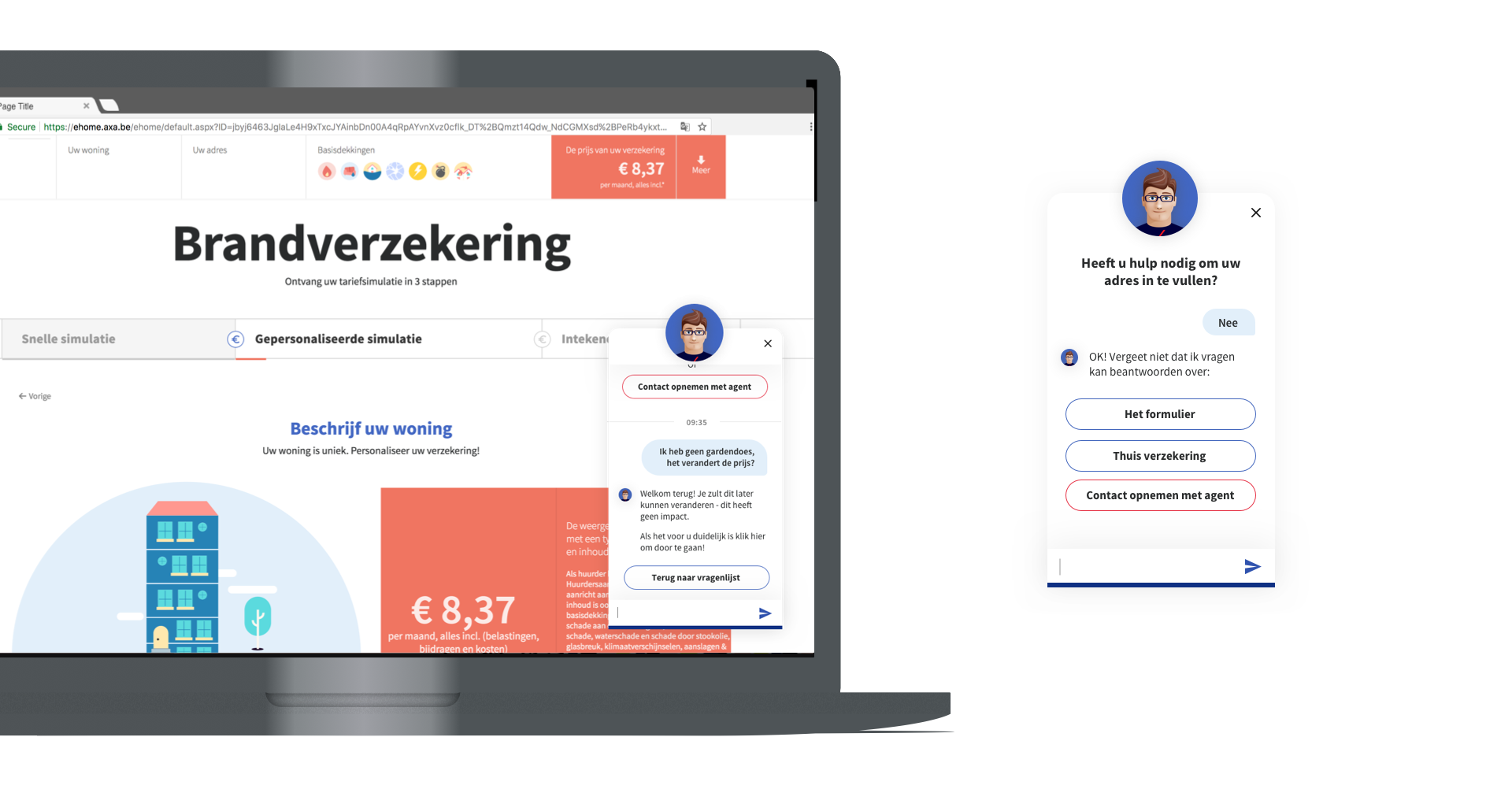 Problem:
We where asked to create a critique document and suggest solutions for the poor engagement rates of the current bot. The underpinning goal was to help reduce bounce rate on quotation forms.
Solution:
We foresaw a short and long term fix. On the short term, we could train the existent bot to answer questions when the user was stuck for a specific amount of time, hence the name, contextual chatbot. It checks user's behavior and acts on it. It is non obtrusive (the questions are very straightforward, so you don't need a bot blinking on your screen when you have to fill in your name) We'd wait for a trigger from the user to offer assistance. Our bot would still be minimized on the screen so the user can go back to it if needed. 
The long term solution was to address the problem itself: the long, super-detailed questionnaire. As it is part of a quote, the questions can't be changed but we could change the way we presented it, spread a little love UX, tone of voice and actual empathy for the user looking for housing insurance, which can be tedious and scary. 
The chatbot would now become an interactive form. A real conversation. This would be more time consuming, the scope was bigger, but we decided to give the client our views on the future of customer happiness.
I created scenarios and prototypes for each situation using clickable mockups. The UI was a mix of their current style with some extra ideas that would make the design cleaner, as the client's website was not using color and space in a positive way.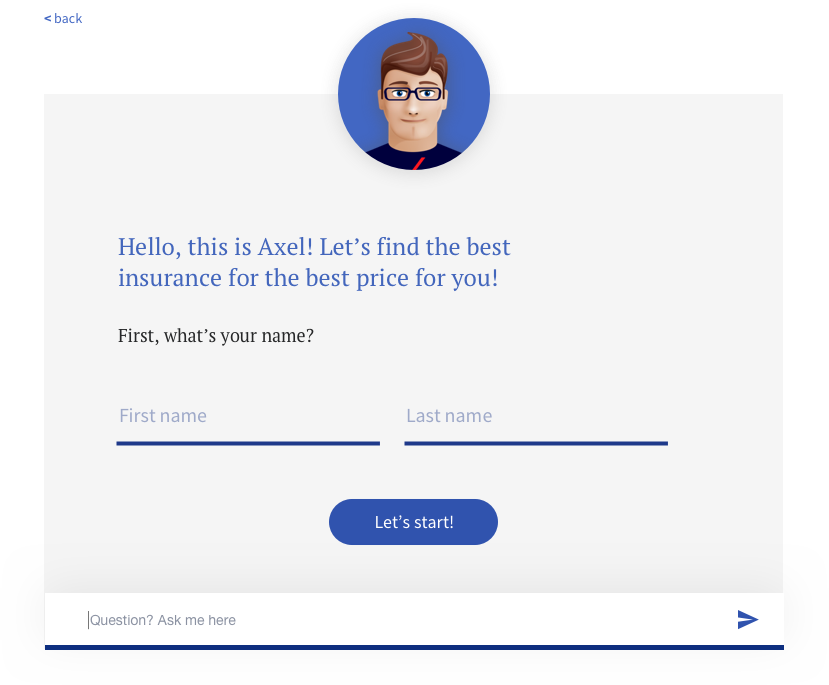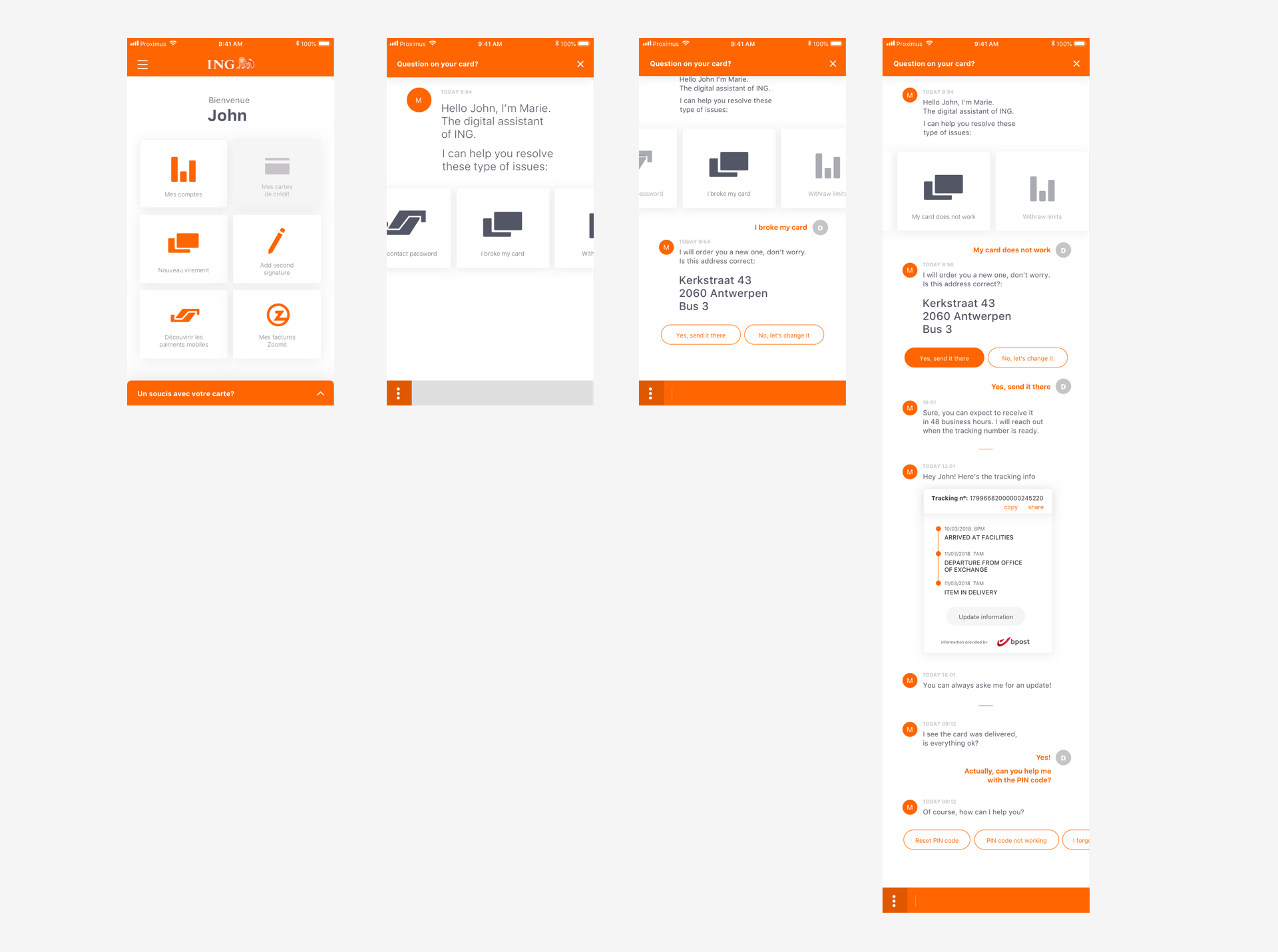 Goal:
 The agency was approached by a bank and we were challenged to look for pain points on their current assistant (available on Facebook Messenger) and show our views on the future of AI assistants.
Solution:
We analyzed the company's current bot and find flaws on both tone of voice and UI. Their bot was facebook based, which is not the obvious go to channel to discuss sensible banking information. 
We developed an in-app bot prototype that can make it seamless to access help on the bank app. Conducting a competitor analysis, we found out that all apps from major banks oblige the user to surf through different channels for simple questions which need customer verification. Identity is checked when using the app, so why not unite all features?
I came up with points to improve UX and UI, mostly on general look and feel, amount of text, lack of GUI elements to guide the conversation to create milestones for future reference and absence of already known GUI patterns. The tone of voice was also addressed by the copywriters, we worked together to create a prototype.

My challenge was then to create an example flow to show how these points mentioned above would improve usability. On the UI realm, I wanted to make the interface easier to use, self explanatory. As a brand user I felt the UI was outdated too, so I added some extra tweaks, after all, the perception of beauty in an interface affects the experience too.
Tools:
Sketch / InVision / After Effects